Earlier Versions
| | | | | | |
| --- | --- | --- | --- | --- | --- |
| SC2 Marine Contact - Gameplay Preview (Alpha) release | 119.08 MB | Aug 12, 2019 | - | 5 | Download |
Description
MARINE CONTACT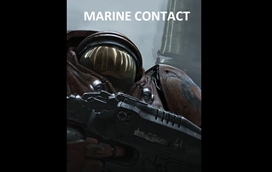 Hey guys! Another new project I'm working on. I'll be uploading it to Battle.Net and showcase a trailer for the time being. Hope you enjoy!
– Side-Scroller Shooter
– 3D Physics Engine, Platforming and Jumping
– Single-Player, but will be Multi-Player
– Gonna be badass
– Will be updated. More levels and more fun and more advancement!
Some refinement to go, but hope you enjoy the trailer and check out the alpha in Battle.Net!
Thank you for watching!
~ SuperMudz
Battle.Net
"Marine: Contact"
Link (US Region): battlenet:://starcraft/map/1/311802